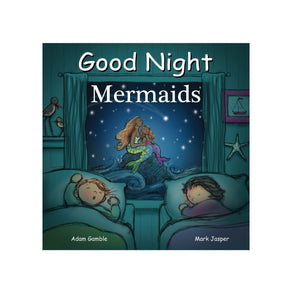 Good Night Mermaids Book
Regular price
$16.00
$0.00
Unit price
per
Product Details
"Dive into the magical sea and explore the enchanted world of mermaids. From playing with dolphins to having a mermaid tea party, this book [explores] in all aspects of mermaid life, including seahorse riding, mermaid school, playing dress up, blowing bubbles, searching for sunken pirate treasure, mermaid pets, coral reefs, mermaid lullabies, and more"--
The perfect adventure for all ages, ride with dolphins, swim with seahorses, dress up with seashells and so much more! This charming board book explores all aspects of mermaid life from blowing bubbles to finding your very own mermaid tail color. Give the gift of underwater exploration all while guiding little ones to drift into a sea of magical dreams.

With the Good Night Our World series, toddlers and preschool-age kids can build listening and memory skills by identifying famous fantasy characters and learning about them. Perfect for bedtime or naptime, reading simple, soothing phrases to your infant, toddler or preschooler will help them fall gently to sleep. Our readers love that their child will pick a favorite portion of the story to read along with you, and on top of that, these classic board books were built to last! Made from thick paperboard construction, it was designed with your kids in mind.
Introduce stories of exploration to your little one using colorful illustrations and distinct vocabulary with Good Night Books, and be sure to look through our entire line of kids fantasy picture books, including Good Night Pirate Ship, Good Night Princesses, Good Night Baby Dragons, and many more!
Surprise your little adventurer today with Good Night Mermaids!
About the Author
Adam Gamble,
is a writer, a photographer, and a publisher. He is the author of many books in the
Good Night Books
series,
In the Footsteps of Thoreau,
and
A Public Betrayed.
He lives in Sandwich, MA.
Mark Jasper is the author of many books in the Good Night Our World series, The Cape Cod Christmas Cookbook, Haunted Cape Cod and the Islands, and Haunted Inns of New England. He lives in Sandwich, MA.
Suwin Chan is an illustrator and toy designer with more than 18 years of experience. She lives in Haverhill, Massachusetts.