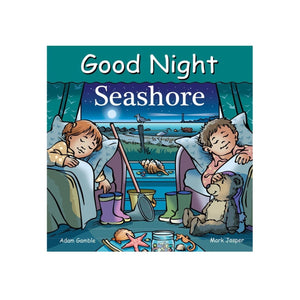 Good Night Seashore Book
Regular price
€9,95
€0,00
Unit price
per
Product Details
Good Night Seashore features beaches, the ocean, crabs, shorebirds, marshes, dunes, starfish, sea turtles, seaweed, urchins, seashells, clams, lobster boats, plants, jellyfish, minnows, seaglass, fishermen, dune buggies, surfers, swimmers, sand castles, and more. Grab your bathing suit and towel–it's time to explore the fabulous seashore.
With the Good Night Our World series, toddlers and preschool-age kids can build listening and memory skills by identifying famous landmarks and the distinct character of real places. Perfect for bedtime or naptime, reading simple, soothing phrases to your infant, toddler or preschooler will help them fall gently to sleep. Our readers love that their child will pick a favorite portion of the story to read along with you, and on top of that, these classic board books were built to last! Made from thick paperboard construction, it was designed with your kids in mind.
Goodnight Seashore
I LOVED this book- we all fell in love with Goodnight Moon- this takes the story to a new level in that we live near the beach- I received the book promptly- loved that it was wrapped in tissue paper with lobsters on it!
I will be ordering again as it was an absolute delight to see that this book was more than I had hoped for- our baby is 3 months old and I am already reading to him!
Thank you so much- love it!!