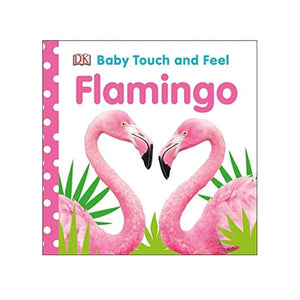 Baby Touch and Feel Flamingo Book
Regular price
$7.99
$0.00
Unit price
per
Product Details
Babies and toddlers will enjoy the read-aloud text and delightful, touchy-feely photos of Mommy, Daddy, and fluffy Flamingo Chick.

Children will love meeting Mommy and Daddy Flamingo, feeling Mommy's webbed feet and fine feathers, touching Daddy's pointy beak, and learning how these amazing birds share the parenting, and build a bumpy mud nest. Soon their egg hatches and Fluffy Flamingo Chick arrives! At the end of the day, the flamingos are all together under a twinkling, starry night sky.

This small baby board book is a good size for little hands to hold. Babies and toddlers will soon be turning the pages themselves, which develops their fine motor skills.

Darling book!
So sweet and fun story but with touches every body loves !!