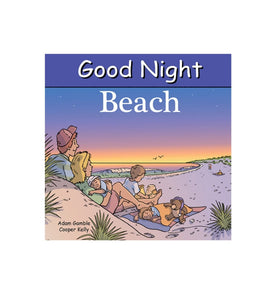 Good Night Beach Book
Regular price
$9.95
$0.00
Unit price
per
Product Details
Good Night Beach features building sand castles by the ocean, boating, swimming, exploring the seashore, waves, tidal pools, surfing, fishing, snorkeling, crabs, seagulls, picnics, campfires, sunsets, and more. Grab your beach ball and towel, it's that time of year again! This charming board book guides little ones in discovering all the wonderful things the seashore has to offer.
With the Good Night Our World series, toddlers and preschool-age kids can build listening and memory skills by identifying famous landmarks and the distinct character of real places. Perfect for bedtime or naptime, reading simple, soothing phrases to your infant, toddler or preschooler will help them fall gently to sleep. Our readers love that their child will pick a favorite portion of the story to read along with you, and on top of that, these classic board books were built to last! Made from thick paperboard construction, it was designed with your kids in mind.

Good night beach
It is a fantastic book. I have nine children oldest is 33 the youngest is 19. Many grand babies. We take a beach house family vaca every year to the outer banks of NC. I got this book for the littles. I wrote in it. But the pictures were perfect. All the things we do at the beach house. We have been home a week now and I read it again yesterday to my 1 and 3 year olds. They listened and looked and pointed so purposefully at the pictures they made connections with on each page. Made me so happy.