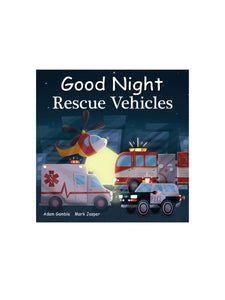 Good Night Rescue Vehicles Book
Regular price
$9.95
$0.00
Unit price
per
Product Details
Emergency! Emergency! This charming board book puts young readers behind the wheel of the most recognizable rescue vehicles including fire engines, police cars and police motorcycles, ambulances, swat trucks, park ranger and all terrain vehicles, surveillance command vehicle, airport rescue, coast guard rescue ships, hazardous materials and bomb disposal vehicle, medical evacuation, vehicles and more.
With the Good Night Our World series, toddlers and preschool-age kids can build listening and memory skills by identifying famous landmarks and the distinct character of real places. Perfect for bedtime or naptime, reading simple, soothing phrases to your infant, toddler or preschooler will help them fall gently to sleep. Our readers love that their child will pick a favorite portion of the story to read along with you, and on top of that, these classic board books were built to last! Made from thick paperboard construction, it was designed with your kids in mind.
Awesome book
Just what I wanted for my granddaughter. Her dad is a paramedic so rescue vehicles and people are part of her world.