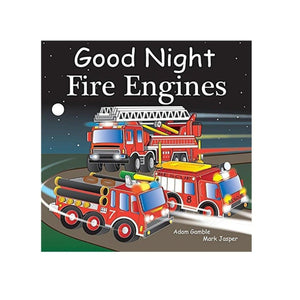 Good Night Fire Engines Book
Regular price
$9.95
$0.00
Unit price
per
Product Details
Take a tour of the fire station and learn about the equipment that fire fighters use and how they do their job.
A day in the life of a fire engine is full of fun and adventure!
Discover what it takes for a fire engine to get ready for the day. Your toddler will get an insight into what it's like to be a firefighter. Climb aboard the fire truck and spend the day with your furry dalmatian companion. Children of all ages embark on an exciting adventure as they ride fire engines with lights flashing and sirens blazing. This book is the perfect gift for future firefighters everywhere, for birthdays, baby showers, housewarming and going away parties.
With the Good Night Our World series, toddlers and preschool-age kids can build listening and memory skills by identifying famous landmarks and the distinct character of real places. Perfect for bedtime or naptime, reading simple, soothing phrases to your infant, toddler or preschooler will help them fall gently to sleep. Our readers love that their child will pick a favorite portion of the story to read along with you, and on top of that, these classic board books were built to last! Made from thick paperboard construction, it was designed with your kids in mind.
Introduce stories of exploration to your little one using colorful illustrations and distinct vocabulary with Good Night Books, and be sure to look through our entire line of kids picture books about other vehicles like race cars, planes, dump trucks, and many more!
Surprise your future firefighter today with Good Night Fire Engine!
Firemen and Engines rest
We have an avid fireman fan. Our grandson visits the fire house in Cambridge, MA often. This book simply tells him Firemen and the Fire Engines sleep like he does.
Grandson loved it
Bought this for my grandson to keep at my house for when he comes to visit. We read it over and over and over again. Had a little meltdown when he couldn't take it with him. 😔